Textile processing and small series production for large and smaller companies.
Textile processing and small series production for large and smaller companies.
We solve all your requirements.
For many years we have been processing textiles for various textile companies. In 2017 the status of our company changed to the legal entity named Holtsapfel-Euromoda s.r.o. We provide large-scale textile repairs according to customer's specifications and requirements. We also cooperate with several companies as a subcontractor. And what does the textile processing mean? More than 95 % of consumer goods and textiles purchased in the EU are produced cheaply in non-EU countries. This kind of goods often come to the EU at the last minute "just in time" and of the poor quality that is not adapted to the EU requirements. The goods are often in poor condition. Before delivering them to the end customer it is necessary to bring them the appropriate quality according to customer requirements and professional processing.
Solutions for everyone – Holtsapfel-Euromoda s.r.o
"Thanks to the flexibility and experience of our employees, we are able to process large capacity in a short time. Our values are quality, competence, on-time delivery and reliability. "
Resewing or removing old appliques, embroidery or logos, resewing or removing needless labels, sewing in or stitching new labels, removing stains, removing adhesive residue, removing threads or other unnecessary residues from manufacturing, resewing or sewing braids and elastics, textile deodorizing, mold removing with dry disinfection (without washing), button changing, popper changing, zip changing. Sewing or ironing problematic parts, taping seams on damaged waterproof products and all other repairs of textiles, footwear and consumer goods including leather and fur products.
Small series production of men's, women's and children's clothes, including workwear, except underwear. Design cutting or cutting according to the customer's design. Do not hesitate to contact us for more information.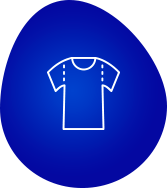 Textile repacking, which can be useful for e-shops. Washing, sorting, packaging on the basis of size, colours etc., textile and interiors deodorizing, mold removing, tumble finishing of garments and other similar activities.
Our 2 000 m2 sewing room is fully equipped with all sewing machines, cutting room, ironing and other professional equipment.
• Industrial sewing machines
• Rygl automat (automatic safety stitch machine)
• 3/5 threads overlocks
• Flatlocks
• Automatic 2/4 buttonhole sewing machine
• Industrial punching machine
• Industrial ironing technology
As part of the demand it is necessary to send us a photo describing the problem. The ideal option is to send us a sample of the textile and we will propose a solution. The proposed option will be applied to the sample which will be sent to the customer for inspection and final approval. If the customer is satisfied with the solution, we can start processing the entire order.
We cooperate with reliable carriers to provide complete logistics. We will take the goods and then deliver them throughout the EU. Before repair we provide complete documentation, which will serve not only for complaints to your textile suppliers.